Now you can take your Ipad wherever you'd like without worrying about the elements! The Waterproof Ipad Case is safe for use at the beach, while taking a bath, in a pool, or in the rain. Our waterproof case is designed for all android tablets as well.
The Waterproof Ipad Case guards against any wet environment that iPad might be exposed to. When using the case, the iPad can be slipped directly into the Waterproof Ipad Case pocket and the transparent surface provides easy interaction with the keyboard and navigation interface.
Use in the rain
Use in the snow
Use in the beach
Buy Now $39.95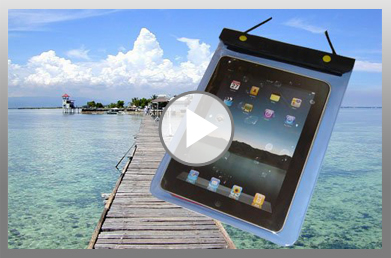 Waterproof
Dustproof
Windproof
Buy Now $39.95
Never Miss a Thing!
Package Includes
Designed specifically for Apple iPad tablet computer (Wifi / 3G Model 16GB, 32GB, 64GB)
You can operate the keyboard and navigation interface through the case with ease
WaterGuard case protects against water, dust, dirt, sand and other elements.
You can wear around neck or shoulder with adjustable strap
Great companion when you use your Ipad at the beach, near the pool side, in the bathtub or at the kitchen table
Product Dimensions: 11 x 0.1 x 8.8 inches ; 4 ounces
Note: Before you use the product please read the User Manual.